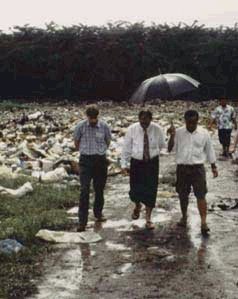 Comments about Norbert's training include:

"Excellent presentation and knowledge."

"Appreciated Norbert's presentation – very good rapport, obviously knows the material really well, handled some very strong personalities/challenges very well & maintained rapport. Very organised, credible, relevant, managed group and events well."

HSNO Adviser Courses, 2001 – 2003

"I would like to express my appreciation to you for the training you provided to the staff at Waitakere City Council. The material was well persented and was very useful..."

"I am from industry and realised it was designed for planners. However, I got an excellent insight into some of the key issues we need to address..."

Various Planning courses, 1995 - 2008

"Very thorough. More TA people should attend."

"Excellent handout material, well presented. Keep the training coming."

HSNO Enforcement Officer Training Courses, 2002
Norbert Schaffoener has developed, presented and facilitated numerous training courses, workshops and seminars over the last decade. His excellent knowledge of the subject matters combined with rare delivery and presentation skills create a high demand for his training services. Norbert has provided training of large groups from 30 to 300 people to personal, inter-active one-on-one coaching. Major relevant training projects delivered by Norbert include:
Five one-day HSNO–RMA link Workshops (2001), nationwide.
TA specific HSNO and planning training, in the Auckland, Waikato,Taranaki and Wellington regions (2002-2008).
Industry training on statutory compliance issues, including for power companies (2001-2003)
HSNO test certifier training and assessment (2003)
Presentation of Hazardous Waste and Contaminated Site Management training course (5 days), in co-operation with Auckland Uniservices, Samoa (1996)
Development, facilitation and presentation of, to date eight, 3-day HSNO Adviser Training courses, in co-operation with Opus Consulting Ltd. (1999-2003) with more than 200 participants
Development, facilitation and part-presentation of three 3-day HSNO Compliance Officer Training courses, for NZIHSM (2002)
Norbert started his teaching experience working as a tutor at Berlin Technical University in the 1980's. He also completed a university paper on environmental education. He has since attended further courses in consultation and negotiation skills. Norbert has published and presented a number of papers at various conferences.

Norbert generally develops his own training material, in close co-operation with practitioners and regulators. He is now acknowledged as one of the best trainers on issues relating to HSNO compliance, environmental risk management and hazardous facilities planning issues.